Sha Yu (鯊魚) is a member of the Ultimate Class who drags a large golden cannon wherever he goes - using it as his weapon. The cannon is named the "Giant Dragon Cannon". He is one of Jin Bao San's followers. He has a battle point of 600.
He is normally seen holding a small blue stuffed shark toy, earning him the nickname "shark" or "shark-boy".
Alternate Counterpart
Edit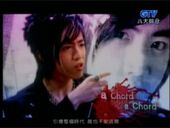 The Iron Dimension
Edit
His alternate counterpart in the Iron Dimension is the lead vocalist of the band Dong Cheng Wei named a Chord, who later promotes to leader of Bei Cheng Wei.