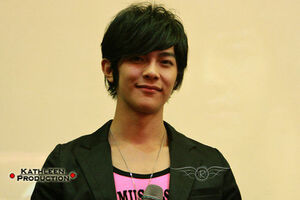 Jiro Wang
(traditional Chinese: 汪東城; simplified Chinese: 汪东城; pinyin: Wāng Dōngchéng) is a Taiwanese actor and singer. He is currently a member of the boy band
Fahrenheit
, and is widely known as the male lead in the Taiwanese idol drama
KO One
(終極一班) and its sequel
The X-Family
, as Ah Jin in
It Started With a Kiss
and its sequel, and
Jin Xiu Yi
in the live-action Taiwanese drama,
Hana-Kimi
(花樣少年少女).
On June 9, 2010, Jiro released his first book. He visited Amsterdam, Holland to write his book, and he and his crew was stuck in Amsterdam due to the Volcano eruption's after effects for 5 days.
Chinese name: 汪東城 / Wang Dong Cheng
Nichnames: 大東 / Da Dong
Birthdate: August 24, 1981
Birthplace: Taiwan
Height: 180cm
Weight: 67kg
Bloodtype: O
Group: Fahrenheit
Agency: 可米製作 / Comic International Productions Co., Ltd.
Filmography
Edit
2002
Ting Ben Jin Yu Cang Ge (聽笨金魚唱歌)
2003
Spicy Teacher (新麻辣鮮師) - Rou Tian (桑田)
2004
The Pawnshop No.8 (第八號當舖)
2005
2006
Hanazakarino Kimitachihe (花樣少年少女) - Jin Xiu Yi (金秀伊)
2007
2008
Rolling Love (翻滾吧!蛋炒飯) - Mi Qi Lin (米麒麟)
2009
2011
The Purple House (紫宅) - Li Yi
2012
Absolute Boyfriend (絕對達令) - Nai Te
Older Woman Marching Forward (姐姐立正向前走)
KO One 2( 終極一班2) - Wang Da Dong (汪大東)
2013
2014
2015
Singles Villa
The Crossing Hero - Hong Xi Dong/ Hong Xiao Dong
External links
Edit
Jiro Wang on Wikipedia