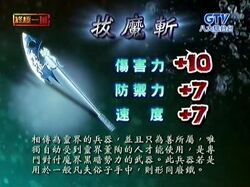 Chinese: 拔魔斬
Pronunciation: Ba Mo Zhan
Damage: +10
Defense: +7
Speed: 7
A powerful weapon in the form of an axe reclaimed from the spiritual realm like the Sword in the Stone (石中劍), however, its existence is for justice and benevolence, and because of that, it has the power to overcome the weapons of darkness.
Ji An (技安) is the wielder of this weapon.
Special Powers
Edit
It is a weapon used by Demon Fighters to kill any evil that surfaces and has the power to gather the forces of both heaven and earth into its master's body. However, it can only be used by someone with enormous power: if it falls into the hands of normal humans, it will turn into a normal weapon.